Dubbing Grab Bags
5 dubbing packs 1/2 to 3/4 full bags of various dubbings, streamer, dry fly, nymph, wet fly etc. at a wonderful price. $1.50/5 bags.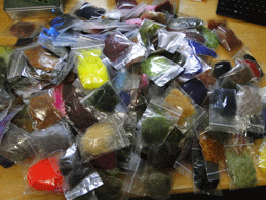 Fly/Bead/Hook Box
A nice little box for small flies, fly tying hook, fly tying beads etc. 3" x 4.5". Can fit in your shirt pocket for those small flies or used as a container for beads and hooks. Only 38 in stock (found them hidden in a corner). $2.00 per box.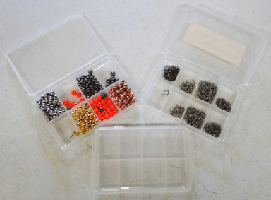 1200 Size Legs in 10 Color Set
These are halfway between Medium and 14-40 legs AND there are over 300 9" legs per hank (not the normal 200 8" legs). IDEAL for legs on dry flies, crab flies and on those dubbing or streamer brushes. One of my favorites. 10 colors in a set.
Chartreuse, Red, Black, Yellow, Hot White, Orange, Purple, Olive, Brown and Gold. $10.00 per 10 color set.